Using Nifi to convert CSV to JSON and store in Elasticsearch
In this post I'll share a Nifi workflow that takes in CSV files, converts them to JSON, and stores them in different Elasticsearch indexes based on the file schema. I created a JRuby ExecuteScript processor to use the header row of the CSV file as the JSON schema, and the filename to determine which index/type to use for each Elasticsearch document.
For this post I used homebrew on OSX, but you could use Docker, install from source, etc.
Example install:
My planned Nifi workflow:
Get a list of CSV files from a local directory
ExecuteScript processor to convert them to JSON, use the header row as the JSON schema, and set index/type attribute on each flow file
SplitJson processor to convert JSON array of objects to individual JSON records
PutElasticsearch processor to send to Elasticsearch, routed to index/type based on flow file attribute
Screenshot of workflow: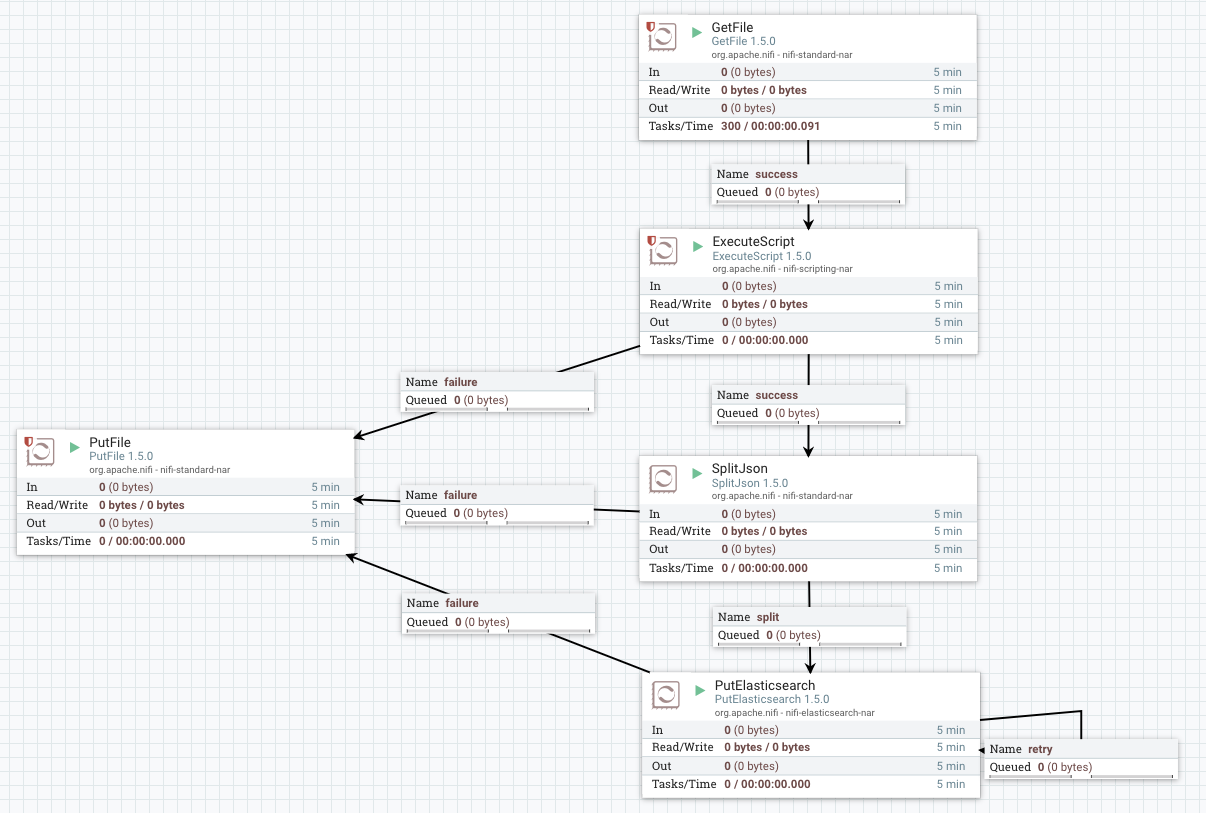 1. GetFile
Input directory: /nifi/in/
File filter: [^\.].*\.csv$
2. ExecuteScript
Script engine: ruby
Script file: /nifi/scripts/csv_to_json.rb
Contents of /nifi/scripts/csv_to_json.rb:
3. SplitJson
Converts JSON array of objects to individual objects
JsonPath Expression: $.*
4. PutElasticsearch
Cluster name: elasticsearch
ElasticSearch Hosts: localhost:9300
Identifier Attribute: uuid
Index: ${index_type}
Type: ${index_type}
Note: cluster name must match Elasticsearch server configuration, ex:
grep -i cluster.name /usr/local/etc/elasticsearch/elasticsearch.yml
cluster.name: elasticsearch

5. PutFile
Used for failure connections
Directory: /nifi/errors/
Conflict Resolution Strategy: replace
Create Missing Directories: true
I create some scripts to generate data, ex:
I executed the data creation scripts, and then copied the CSV files into the input directory, ex: cp /nifi/data/*.csv /nifi/in/
Contents of the ExecuteScript log file:
Inspecting data in Elasticsearch: