Sending messages between a Swift webview and a Rails backend using Javascript
In this tutorial, I'll share some code I've been working on to better understand how a Swift webview can send and receive messages via javascript. For the backend I decided to create a simple Rails server with a single controller and Ratchet for the CSS layout.
Part 1: the Rails backend
Adding Ruby gems, edit file: Gemfile; and then execute: bundle install
Setup devise for user authentication.
Per javascript assets, edit file: app/assets/javascripts/application.js
Per Sass, renamed: app/assets/stylesheets/application.css to app/assets/stylesheets/application.scss; and edited:
Added asset path config to file: config/application.rb
Revised default application layout file per Ratchet, edit file: app/views/layouts/application.html.erb
Edited rails routes for webview controller, edit file: config/routes.rb
Created the webview controller, new file: app/controllers/webview_controller.rb
Created the webview controller view/template file: new file: app/views/webview/index.html.erb
At this point, if you start rails and browse to http://localhost:3000, you should see something like: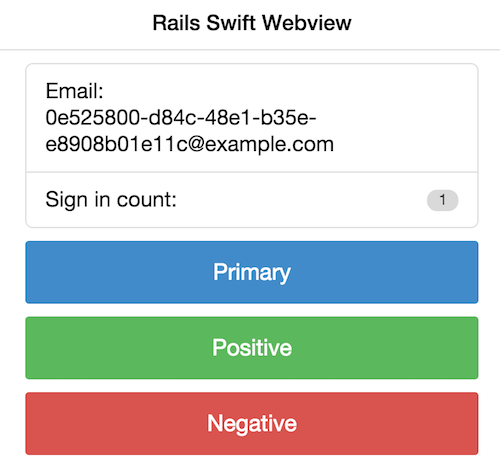 I then added a new javascript file to handle sending messages to Swift. new file: app/assets/javascripts/webview.js
For the development of this tutorial, I used ngrok to create a secure SSL tunnel to my localhost.
Part 2: the Swift webview
Open XCode, File > New > Project… and choose iOS Application, Single View Application
I entered:
In the project navigator, click on the Main.storyboard file. In the View controller scene, click on the View. Then, in the top menu bar, click on the button to show the Assistant editor.

To create an outlet, hold down the control button, click and drag from the view to the ViewController source code, and release inside the class declaration.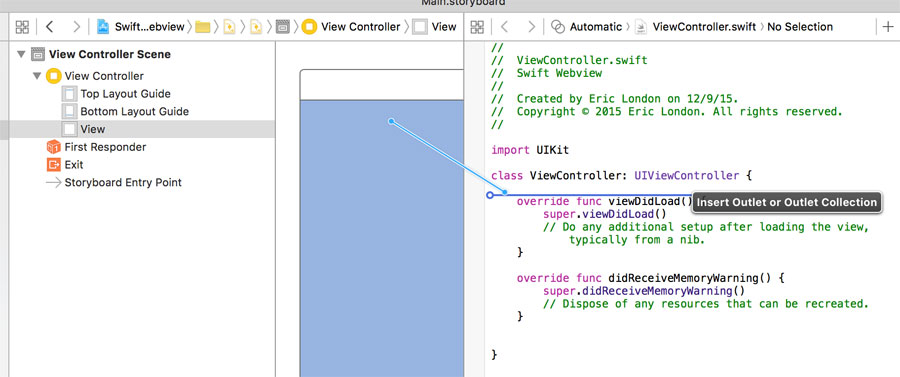 Enter the following options and click the connect button:
Now it's time to add the rest of the code to the ViewController.swift file
Build and run the project in Xcode using the iPhone iOS simulator.
Click on the three buttons in the webview, the Debug console should show something like: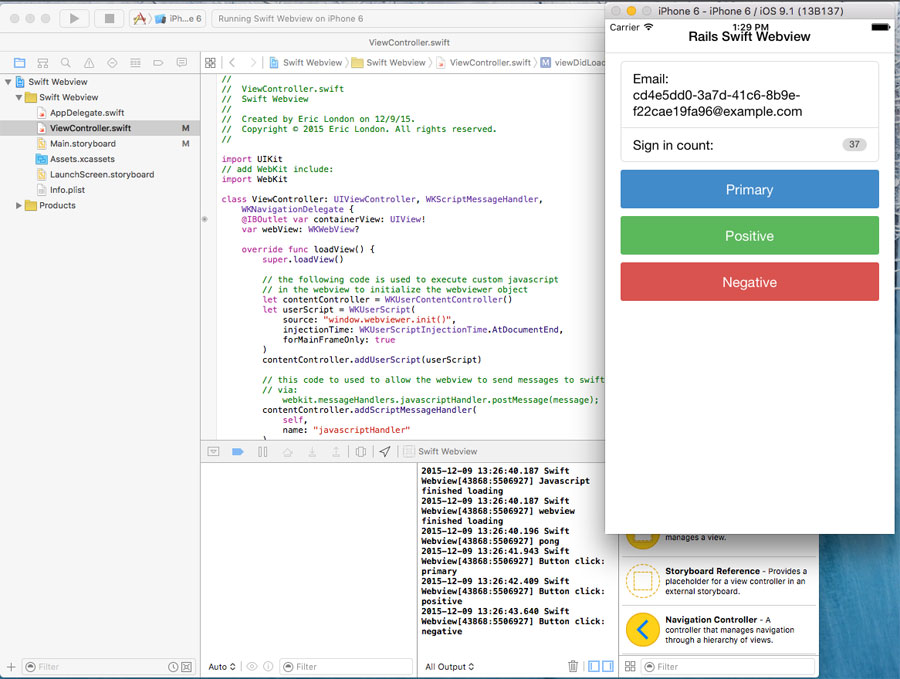 Here are some more Swift webview tutorials for further reading: