Rails 4 Elasticsearch integration with dynamic facets and filters via model concern
In this blog post, I'll share some code that integrates Rails 4 models with Elasticsearch to provide a search form with dynamically generated facets and filters. The below code shows how you can use class introspection with Rails models to create a searchable framework without hardcoding your model attributes.
Install JRuby via RVM. note: JRuby is optional, this code works with MRI Ruby as well.
Install Elasticsearch via homebrew.
Setup new Rails project.
Added gems, edited file: Gemfile. Executed: bundle install
Added example models:
Created rails model concern to integrate models with Elasticsearch. The Rails concern code provided is based on this example template provided by the Elasticsearch gem. I revised it and removed the hardcoded model attributes.
Create new file: app/models/concerns/elasticsearch_searchable.rb
Added model associations, and searchable concern integration.
Edited file: app/models/thing.rb
Edited file: app/models/person.rb
Seeded data. Edited file: db/seeds.rb
Executed rake db:seed to populate development database.
Curl Elasticsearch to review JSON structure after seeding data. Note: the JSON response "things" array truncated for the sake of brevity. Executed: curl http://localhost:9200/people/_search?size=1 | python -mjson.tool
Created a search controller with an index method. Executed: rails g controller Search index
Revised search controller index method, file: app/controllers/search_controller.rb
Revised search index view to provide all search form, layout, and facet markup. Edited file: app/views/search/index.html.erb
Added 2 javascript click events for facets and the search button, edited file: app/assets/javascripts/search.js
As seen in the above code, the ElasticsearchSearchable concern, search controller, and views do not contain hard-coded model attributes. Clearly this code will require customizations based on the project, but it's a proof of concept. Here is a screenshot in action, url: http://localhost:3000/search/index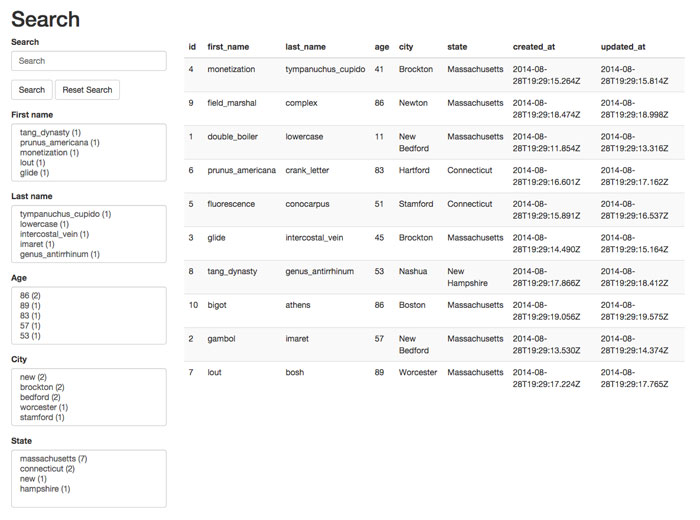 The Bootstrap integration, layout, modifications to CSS/markup/views/etc, and everything else can be seen in the source code at Github.